Over 60 % of our bookings are from returning guests, so I hope we are doing something right! Many of our guests visit several times a year just to top up their Vitamin SEA! We love it when guests leave a review for us on google, tripadvisor or Facebook. 
Trip Advisor
Please read the lovely independent reviews that our guests have written about us on
Trip Advisor.
  We are delighted to have earned another Certificate of Excellence from Trip Advisor this year.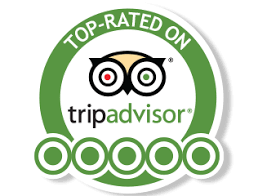 Facebook
We also collect reviews and comments from guests on our facebook page so feel free to add your best photos to our page.  Please "like" us to keep in touch and see details of last minute deals and offers. 
Salty Charities 
Help for Heroes charity:
We support the charity Help for Heroes to offer free holidays in our quieter months to our injured heroes and their families through the Band of Brothers programme. So far we have welcomed 25 families who definitely deserve a free Salty Holiday.
Sail 4 Cancer charity:
Since 2016 we have also been extending our "free holidays" to those battling with cancer, working in partnership with the charity Sail4Cancer. 
Pheonix Rehoming:
We also support this dog rescue through donations and Dawn volunteers as a dog-behaviourist.  We usually have one of their rescue dogs in foster with us (we have fostered over 30 dogs now). 
Charitable events:
We like to do our bit for a good cause, so if you are coming to participate in one of the islands many charitable events this year, we will donate £50 to your preferred charity if you book your accommodation through us. Please just mention this when booking!