Read the lovely independent reviews that our guests have written about us on
Trip Advisor.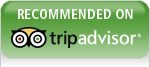 We also collect reviews and comments from guests on our facebook page.  Please "like" us to keep in touch and see details of last minute deals and offers. 
Here are just a few of the quotes from our guestbook:
"Great location, beautiful accommodation, wonderful couple.  We have thoroughly enjoyed our stay and will definitely be back soon"
"Cannot say how enjoyable our stay has been... Fantastic people, beaches, restaurants and pets.  Cannot wait to come again"
"Really enjoyed our stay in probably the best location in Ventnor, and the weather was great"
"Loved being so close to the beach - and the weather was perfect, thankyou"
"Fantastic location and fab views.  Loved listening to the sound of the sea in bed.  Hope to come back soon."
Help for Heroes charity:
We support the charity Help for Heroes to offer free holidays in our quieter months to our injured heroes and their families through the Band of Brothers programme. So far we have welcomed 25 families who definitely deserve a free Salty Holiday.
Sail 4 Cancer charity:
This year we are also extending our "free holidays" to those battling with cancer, working in partnership with the charity Sail4Cancer. 
Charitable events:
We like to do our bit for a good cause, so if you are coming to participate in one of the islands many charitable events this year, we will donate £50 to your preferred charity if you book your accommodation through us.
In the press:
Jamie Oliver magazine (May 2016) publishes 10 reasons to visit the isle of wight this summer
Cycling weekly (Feb 2016) publishes 8 reasons why cycling on the Isle of Wight is simply brilliant
The Telegraph ranks the Isle of Wight as no 5 in the top 10 driving holidays in Europe. (Jan 2016) 
Visit England (June 2015) - There is a case study on Salty Holidays in the Business Monitor report (page 18) 
Coast Magazine (July 2015) - lovely 5 page article on spending a weekend in Ventnor 
The Sunday Times (June 2015) - article on Ventnor
The Guardian (Feb 2015) - article on Ventnor
And read about us in the Isle of Wight County Press.
The Times on Saturday (23/3/13) - Ventnor voted no 11 in the Times "Best Places to Live by the Sea"
Good housekeeping magazine (August 13 edition) features a double page spread on the Isle of Wight and recommends Ventnor as the best place to base yourself on the Island! See the article here.
Ben Ainslee talking about the festival of the sea (from 16th June 2014) and the fantastic Round the Island Yacht race https://www.youtube.com/watch?v=c6OhaPfsM5U